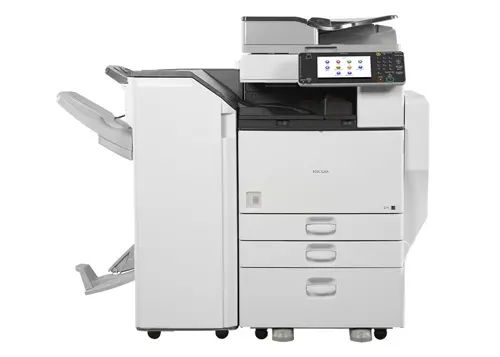 Aficio MP 5002
General Features
Print and copy up to 50 pages-per-minute for exceptional throughput to meet your busiest demands.
Add the final touches to your documents with three finishing options, including a 2,000-Sheet Booklet Finisher.
Access functions quickly and easily with the full-color, tiltable operation panel.
Set up an external keyboard via USB to expedite operating tasks for users who are more comfortable with traditional keyboard input.
Customize your personal Home Screen and display only the icons you use most frequently for fast, one-step operation. (HDD Required)
Printer Features (Optional)
Take advantage of 1 GB RAM and a 128 GB optional Hard Disk Drive (HDD) to store and manage more documents.
Generate output at the device using a USB memory or SD card for incredible convenience and flexibility. Users can insert the card into a slot on the operation panel to begin printing in seconds-no computer is necessary.
Ensure efficient production of reports, presentations and training materials with standard support for PCL or optional Adobe® PostScript® 3™.
Use Auto Job Promotion to minimize downtime and maximize efficiency. This feature moves print jobs higher in the queue to skip "error" print jobs.
Assign functions and preferences with five, one-touch function keys for more effective workflow.
Store print jobs at the device until an authorized user swipes an ID card or enters ID information at the control panel to release the job.
Stop unauthorized duplication of sensitive documents with Unauthorized Copy Control-a critical feature for workgroups that regularly handle sensitive data.
Mobile User Features
Mobile users now have the ability to print documents directly from their iOS device to their Ricoh MFP using the RICOH Smart Device Print App. The RICOH Smart Device Print App supports common formats such as PDF, iWork and MS Office files. The App also allows users to choose the Locked Print feature for added security, as well as make selections for paper size, paper type and duplex.
This flexible system offers convenient printing from most manufacturers' smartphones/ tablets* and other web-enabled devices to ensure productivity in more places. (available for free download from either the Apple® App Store™ or via the Google Play™ store)
Scanner Features (Optional)
Scan full-color or black-and-white originals and share them instantly with Scan-to-Email/Folder/HDD.
Preview files on the control panel before printing from USB/SD Card for quality assurance prior to distribution.
Access LDAP-registered directories and information, including Home Directory, quickly with one-touch operation at the device for fast, convenient scanning and easier, cost-effective administration.
Compress file sizes of full-color scans with the High Compression PDF function and produce quality results with faster distribution.
Fax Features (Optional)
Take advantage of up to three analog lines with the Super G3 modem to improve total fax capacity and minimize bottlenecks.
Distribute documents directly to e-mail addresses and eliminate longdistance costs with Internet Fax capabilities. Forward inbound faxes to e-mail addresses, network folders or the system's optional HDD for easy, fast and free paperless faxing.
Security Features
Overwrite all stored data on the optional hard disk drive and encrypt the address book, authentication information and stored documents using optional HDD overwrite/encryption.
Secure and destroy latent images and data from the system's internal optional HDD with the standard DataOverwriteSecurity System (DOSS).
Prevent unauthorized access to certain functions with password-protected and user-specific authentication.

New Product Spotlight
Kyocera
Multifunction Printer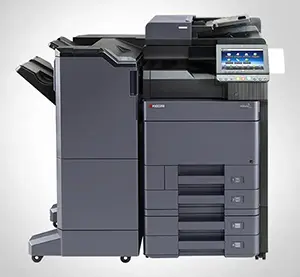 TASKalfa 5052ci
Click here for Details
Reviews
They were painstakingly thorough in analyzing our copy machine needs and the solutions to address our copy needs. I was truly impressed with the executive summary they presented . . .