San Diego, CA's Best Value for Copiers, Printers & Other Commercial-Grade Office Equipment
Advanced Office is the preferred choice among San Diego businesses for copiers, printers, wide-format printers, production printers, digital duplicators, and fax machines. We're your #1 Factory Authorized Ricoh Dealer and an Authorized Lexmark Business Solution Dealer. Because of our status, we are able to offer our clients the most competitive prices for Ricoh and Lexmark's exceptional line of commercial office automation equipment. Additionally, with our expert recommendations, factory-authorized service, and professional software services, we are able to help San Diego businesses save money on their print-related costs and become more productive. In fact, over the last 30 years, we've accrued a roster of more than 30,000 satisfied clients across Southern California.
Advanced Office consists of factory-trained copier and printer experts who are experienced in helping companies find the most cost-effective copiers and printers for their needs and budget. We design workflow solutions for companies from every industry and can help businesses in San Diego of every size, including those that produce as little as 1,000 prints per month. By providing each of our clients with a comprehensive onsite analysis, where we review their existing office equipment, interview key users, uncover inefficiencies, and evaluate printing volume, we gain a complete understanding of their current workflow. We also get a clear picture of their expected growth and future needs. With this information, our sales consultants, who have on average 15 years of experience, can then suggest the best copiers or other equipment for any circumstance.
Call Advanced Office today to discuss your copier and printer needs in San Diego. Our worksite analysis is free and can be scheduled at a time that is convenient for you and your office.
Advanced Office is a proud member of the National Business Association and their Select Dealer Group.
San Diego County's Premier Ricoh & Lexmark Dealer
Advanced Office is San Diego's premier independent authorized dealer of Lexmark and Ricoh commercial products. We're Ricoh's number-one dealer in the Western Region and an Authorized Lexmark Business Solutions Dealer--Lexmark's highest level of dealership. This means that we can offer your company complete access to the industry's best printers and copiers at the most competitive rates.
Through our centrally located office located at 10650 Treena St., #110 San Diego, CA 92131, we are able to serve the needs of businesses throughout San Diego County. Our copier sales, leasing, rental, and maintenance services are available to any company located in:
San Diego
Oceanside
Santee
Chula Vista
San Diego
El Cajon
Encinitas
Carlsbad
Poway
Ramona
Vista
Mira Mesa
Contact us today if you wish to schedule a free consultation.
San Diego, California - Copier & Printer Leasing
Advanced Office makes it possible for San Diego businesses to afford Ricoh and Lexmark's exceptional line of copiers, printers and other office equipment. We offer 36-60 month leases with no money down and low monthly rates. Our leases can be used to finance one large machine or a fleet of printers and copiers, as well as custom software and a service contract. Call today to learn more about leasing a printer or copier for your San Diego company; you can speak with our highly experienced sales consultants or our in-house lease advisors for specific financing and accounting information.
San Diego, California - Copier & Printer Rentals
For San Diego businesses in need of a printer or copier for a period of less than three years, we have short-term and long-term rental options. We specialize in renting Ricoh and Lexmark's commercial-grade printers and copiers. We offer cost-effective pricing on all of our rentals, expert consultations and support, and unbeatable service. Call us today for a free estimate on your copier/printer rental in San Diego.
San Diego, California - Copier & Printer Sales
Advanced Office consists of factory-trained copier experts who are experienced in analyzing a workforce's printing needs and usage in order to help San Diego companies determine the best copiers and printers for their needs. We exclusively sell and install Ricoh and Lexmark copiers, printers, digital duplicators, production printers, wide-format printers, and fax machines because we believe they offer the best return on investment. Their machines are reliable, fast, eco-friendly, and cost-effective. They feature a variety of finishing options, high-quality components, and the capacity to be fully customized. By working with us, we'll give you honest recommendations on which copiers and/or printers will be best suited for your business's current and future printing needs.
San Diego, California - Refurbished Ricoh Copiers
Our refurbished copiers are always in high demand because they make it possible for our San Diego clients to get a like-new copier for a fraction of the price of a new one. Our certified refurbished copiers consist of lightly used Ricoh and Lexmark multifunction copiers that have come off our short-term leases. Our trained technicians strip and clean these used copiers/printers; replace all high-wear components; and perform a 60-point inspection. Once the inspection is complete, these machines are qualified for resale and fit for service on our all-inclusive contract. Call today to discover what we have in stock--our inventory is always changing.
San Diego, CA: Cost-Effective Service Contracts for Ricoh and Lexmark Office Equipment
Advanced Office's factory trained and certified technicians provide San Diego businesses with expert service, repair and maintenance for copiers, printers, production printers, digital duplicators, wide-format printers, and fax machines manufactured by Ricoh or Lexmark. These services are primarily offered through our all-inclusive service and supply contracts, which include service, maintenance, repairs, on-site product training, access to our technical help desk, high-quality parts, toners, and more. For San Diego companies with smaller printers, we offer parts and labor contracts that feature many of the same benefits but without the supplies and toner. Call today to learn more.
Document Management & Software Solutions for Businesses in San Diego, CA
Businesses in San Diego can improve and possibly eliminate workflow inefficiencies by taking advantage of the latest advances in copier and printer software. Workflow inefficiencies waste time and money, but with customized software-based solutions, you can leverage your existing infrastructure, accelerate key business processes, reduce storage costs, improve document accessibility, and more. Our state-of-the-art software integrates seamlessly with Ricoh and Lexmark's copiers and printers, but can be designed for any brand of office equipment, including HP, Xerox, Panasonic, Sharp, and Canon. If you would like to learn more about our software solutions, call us today for a free workflow analysis; we'll determine which software solution will best meet your needs and fit your budget.



New Product Spotlight
Kyocera
Multifunction Printer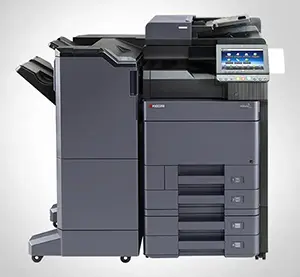 TASKalfa 5052ci
Click here for Details
Reviews
Just moved to San Diego and started a new office. The Advance Office team was great from start to finish. They were professional, quick to respond and execute everything needed and helped with any and all questions through the whole process. Great to work with and I recommend working with them.