Advanced Office: Experts in the Copier & Printer Needs of Today's Irvine Businesses
Advanced Office is committed to serving the diverse copier and printer needs of businesses throughout Irvine. Over the last three decades, we have accrued a roster of more than 30,000 satisfied commercial clients throughout Orange County, San Diego, Los Angeles, and the Inland Empire, and believe that our commitment to providing value-added service has been the key to our success. At Advanced Office, we offer:
high-quality new and refurbished copiers and printers
exceptional copier/printer service and maintenance
custom print and workflow solutions
personalized, dedicated customer service
competitive rates with 100% financing
Advanced Office is Ricoh's #1 dealer in their Western Region and an Authorized Lexmark Business Solutions Dealer. Ricoh is the #1 U.S. market share holder and U.S.-based Lexmark is the top choice among 75% of the world's top banks, retailers, and pharmacies. Their printers and copiers are known for offering businesses of all sizes high-performance machines with fast print speeds, exceptional resolution, extremely durable components, and customizable features and software.
To match the superior quality of our products, Advanced Office has invested heavily in our service department. Our team members are all factory trained and average over 10 years of industry experience. They excel in product knowledge, fast response, first-call effectiveness, and responsive service. We also maintain a local warehouse with more than $1 million in OEM parts and supplies.
Call Advanced Office today for a free analysis. We've designed our consultation and support services to meet the needs of today's businesses and know how to help Irvine businesses reduce their print-related costs and increase productivity.
Ricoh & Lexmark Copiers - Sales, Leasing, Rentals & Service for Irvine, CA
For the last 30 years, Advanced Office has been helping Irvine area businesses determine which copier will best suit their needs and budget. Every time a client is looking to invest in new copiers, we administer a complete workflow analysis to acquire a clear and complete understanding of your needs and budget. We've helped thousands of businesses across Southern California find the best copier for their circumstances and we know we can help you too.
Advanced Office exclusively sells, leases, and rents Ricoh and Lexmark copiers because they offer models for businesses of every size, incredible print quality, fast print speeds, and long-lasting components. They are generally multifunctional, which means they can print, scan, copy, fax, and more. They can usually print in both black and white and in color, and sometimes offer finishing options, such as hole punching, stapling, folding, booklet finishing, and ring binding. Additionally, these copiers come standard with a number of security features and can have special software uploaded for added security or automation. In addition to new copiers, Advanced Office also offers certified refurbished copiers.
Call today to speak with one of our copier sales experts. We'll come out to your Irvine business site and provide honest, professional advice and expert copier recommendations.
Ricoh Fax Machines for Irvine, CA Businesses
Among Advanced Office's offering of superior office automation products are Ricoh's low-, mid-, and high-volume fax machines. These fax machines are multifunctional, highly durable, and rich with features, such as scan-to-email, network ready faxing, Internet faxing, IP faxing, LAN faxing, high volume memory, and more. By working with an Advanced Office, we can determine the most cost-effective fax machine to meet your Irvine business's needs. Ricoh's fax machines are eligible for Advanced Office's leasing program, as well as its comprehensive service and maintenance agreements. Call today and consult with one of our experienced sales team members.
Ricoh & Lexmark Printers - Sales, Leasing & Service, Irvine, CA
Advanced Office sells and leases high-quality single-function and multi-function printers made by Lexmark and Ricoh to companies in Irvine. Our inventory includes black and white, color, and combination laser printers for commercial use. These printers produce quality prints quickly with a low cost per page and features a wide range of features and capabilities. By working with our printer experts who average 13-15 years of experience, your fleet of printers can be customized, strategically placed, and set up for optimal cost savings and productivity. Printing costs can usually be reduced further when our clients also invest in routing software. Additionally, because we have immediate access to Ricoh and Lexmark's inventory, we can often have printers delivered, installed, and connected to your network faster than our competitors--usually within a week. Call today for a free onsite printer consultation in Irvine.
Ricoh Production Printers - Sales, Leasing & Service, Irvine, CA
Advanced Office sells and leases Ricoh production printers to Irvine clients that have or are looking to create an in-house print shop. We offer them superior-quality production printers at cost-effective prices with 100% financing. These printers are the best option for those that need to produce huge volumes of quality prints quickly and affordably. Additionally, they can also feature a variety of advanced finishing features, such as stapling, folding, collating, saddle stitching, and more. While you can go to any Ricoh or production printer serving the Irvine area, Advanced Office is the company that has the experience and expertise to determine the precise printer for your company that will not only meet your needs but offer you the best cost advantage. Call today for a free onsite analysis.
Ricoh Wide-Format Printers - Sales, Leasing & Service, Irvine, CA
Advanced Office specializes in finding the best print solutions for Irvine's local businesses. For our clients that want to print, copy, and scan oversized documents in-house, we recommend Ricoh's line of wide-format printers. These specialized machines can print documents, posters, floor plans, drawings, and schematics that are up to 49 feet in length and 3 feet in width. Ricoh wide-format printers are renowned for producing prints with superior resolution in a very short amount of time. Call Advanced Office today to discuss our Ricoh wide-format printer purchasing and leasing options. We offer low interest financing that can include the total cost of your equipment as well as all-inclusive service and supply agreement and specially tailored software.
Ricoh Digital Duplicators - Sales, Leasing & Service, Irvine, CA
At Advanced Office, we sell, lease, and install digital duplicators and are factory trained to provide the highest quality service and maintenance. Ricoh's digital duplicators are the perfect heavy-duty machine for Irvine area schools, nonprofits, hospitals, universities, and various commercial businesses that need a low-cost way to generate large volumes of single-page flyers, documents, reports, and forms. Call today to learn more about how a new digital duplicator can improve print-related productivity at your Irvine worksite.
Advanced Office's Professional Services - Document & Workflow Solutions for Irvine, CA
Irvine businesses of all sizes can save money on their print-related costs and boost productivity with our innovative document and workflow solutions. By using turnkey or customized software that integrates seamlessly with your printer and copier network, we can help your company improve its workflow (the way paper moves through your company), reduce printing costs, and accomplish other goals, such as improve security, billing processes, and document management. By working with Advanced Office's experienced product consultants and in-house IT team, we can determine the best software solution for your needs and budget. Call today for a free consultation. Our professional software services also qualify for our financing options.
Advanced Office Irvine - 92602, 92603, 92604, 92606, 92612, 92614,
92617, 92618, 92620, 92697, California (CA)
Area code (714, 949)



New Product Spotlight
Kyocera
Multifunction Printer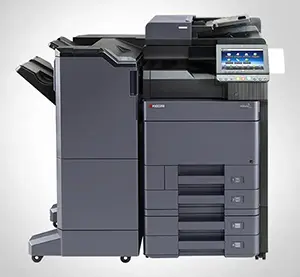 TASKalfa 5052ci
Click here for Details
Reviews
Concerning a printer move: "He was efficient with his timing and knew exactly what he was doing. This is the smoothest move we have ever had when moving copiers and printers."