30 Years of High-Quality Copier Sales, Leasing and Service to Fontana, CA Companies
Advanced Office offers businesses in Fontana unbeatable value when it comes to copiers and printers. We have over 30 years of experience in the industry and have become experts in developing custom print and workflow solutions that make businesses more productive and cost-efficient. We begin every client relationship with a comprehensive, free onsite analysis that helps us gain a full understanding of each company's print usage, user needs, productivity goals, and budget concerns. We then design a custom solution that includes honest office equipment and software recommendations. Through this process, we have helped tens of thousands of businesses across Los Angeles, Orange County, San Diego and Riverside save money on their print-related costs.
We exclusively sell, lease, and rent Ricoh and Lexmark's high-quality, commercial-grade products. Their award-winning machines lead the market when it comes to innovation, quality, durability, and sustainability. Our inventory includes Ricoh and Lexmark multifunction copiers, multifunction printers (MFPs), single-function printers, production printers, wide-format printers, digital duplicators, and fax machines. By offering a wide range of financing options, we make it possible for companies of any size (including those that produce as little as 1,000 prints per month) to afford the office equipment they need. We also offer competitively priced professional software services and all-inclusive service and supply agreements.
Call today for a free quote and worksite analysis in Fontana.
Fontana, CA's Authorized Lexmark Business Solutions Dealer
Advanced Office is proud to offer Lexmark copiers and printers to our Fontana clients that need a fast, highly reliable, and cost-effective machine. Lexmark is a U.S.-headquartered printer and copier manufacturer that excels at producing industry-specific print and workflow solutions. Year after year, Lexmark's printers and copiers/multifunction devices have won numerous Buyers Lab (BLI) Pick Awards, which is an indication of the great performance Fontana companies can expect from these highly engineered products. Over the years, we've provided thousands of businesses with competitive pricing and trusted advice on Lexmark's machines. We've also delivered unsurpassed copier/printer service and maintenance which helps extend the life of these machines, keeps warranties valid, and reduces the likelihood of unexpected breakdowns. If you are wondering if Lexmark is right for your workforce, call us today for a free onsite analysis.
Fontana, CA's Preferred Authorized Ricoh Dealer
By working with Advanced Office, your Fontana business gains access to competitive pricing on Ricoh's complete line of commercial-grade copiers, printers, production printers, digital duplicators, large-format printers, and fax machines. We're the top ranked Ricoh dealer for their Western Region and 12th ranked Ricoh dealer nationwide, which gives us the ability to offer our Fontana clients the best pricing for Ricoh's exceptional office automation products. Ricoh is known for quality; they've even won the Deming Award twice for their unwavering commitment to quality. Additionally, they are dedicated to sustainability: All of their plants are zero waste to landfill, and they have been named among the "Global 100 Most Sustainable Corporations."
If you are interested in buying, leasing, or renting a Ricoh copier or printer, including those made by related brands Savin, Gestetner, or Lanier, call and speak with an Advanced Office sales consultant today. We have new and refurbished machines, as well as local service and support. We offer free onsite analysis to help determine the best copier and printer solution for your needs.
Lexmark & Ricoh Copiers, Fontana, CA
At Advanced Office, we have more than 30 years' experience helping Fontana businesses determine which copier will best suit their print-related needs and budget. By administering a complete workflow analysis that consists of interviewing your key users, evaluating your current office equipment, and understanding your document management needs, we are able to recommend the most cost-efficient copier models for your needs. We've helped thousands of businesses across Southern California and we know we can help you too.
We exclusively sell, lease, and rent Ricoh and Lexmark copiers because these award-winning machines offer incredible print quality, fast printing speeds, highly durable components, and a great return on investment. Plus they offer copier models for businesses of every size. We offer both new and certified refurbished copiers. Call today to speak with one of our copier sales experts. We'll come out to your Fontana business site and provide honest, professional advice and expert recommendations.
Lexmark & Ricoh Printers, Fontana, CA
Advanced Office sells and leases high-quality printers made by Ricoh and Lexmark to companies in Fontana. Our inventory includes single-function and multifunction laser printers for commercial use. These printers can print in black and white, color, or both, and produce quality prints quickly at a low cost per page. When our clients also invest in routing software, printing costs can be reduced even more. By working with our printer experts who average nearly 14 years of experience, your fleet of printers can be strategically placed and set up for optimal cost savings and productivity. We have immediate access to Ricoh's and Lexmark's printers and can usually have them delivered, installed, and connected to your network much faster than our competition. Call today for a free onsite printer consultation in Fontana.
Fontana, CA's Best Value for Production Printers
The professionals at Advanced Office have years of experience selling and leasing Ricoh's production printers to Fontana businesses. Our production printers offer superior print quality at cost-effective rates with 100% financing options. These printers are the best option for businesses that wish to create an in-house print shop. Production printers produce huge volumes of quality prints quickly and affordably, and can also feature a variety of advanced finishing features, such as stapling, collating, hole punching, multiple folding, saddle stitching, and more. While you can go to any Ricoh or production printer serving the Fontana area, Advanced Office is the company that has the expertise and experience to determine the precise printer for your company that will not only meet your needs but also offer you the best cost advantage. Call today for a free onsite analysis.
Fontana, CA's Best Source for Wide-Format Copiers/Printers
Advanced Office sells and leases high-quality Ricoh wide-format copiers/printers to companies throughout Fontana. We believe Ricoh's wide-format machines are the best investment for our clients looking to print, copy and scan oversize documents because they offer fast print speeds, exceptional print quality, and reliable performance for a great price. These specialized machines can be used to print documents, such as posters, floor plans, drawings, and schematics, that are up to 3 feet in width and 49 feet in length. And, like all our products, we offer 100% financing for Ricoh's wide-format printers/copiers and service and supply agreements. Call Advanced Office today to learn more; consultations are free.
Fontana, CA's Preferred Choice for High-Quality Digital Duplicators
Ricoh's digital duplicators are the ideal heavy-duty machine for not-for-profits, hospitals, schools, and various other Fontana companies that need a low-cost way to generate large volumes of single-page documents. At Advanced Office, we sell and lease digital duplicators and are factory-trained to provide the highest quality installation, service, and maintenance. Call today to learn more about how a new digital duplicator can improve print-related productivity at your Fontana worksite.
Workflow Solutions Using Custom Software for Copiers & Printers, Fontana, CA
Advanced Office's consultants and IT staff excel at designing and implementing custom software for copiers and printers that help Fontana area businesses save money and become more productive. We offer scanning, security, document management, electronic content management, billing, rules-based printing, and custom software solutions. If you are interested in our professional software services, call us today. We'll provide a comprehensive analysis of your workflow system and determine or develop the software that will best meet your needs and fit your budget. Our software services are competitively priced and eligible for financing.
Advanced Office Fontana - 92335, 92336, 92337, California (CA)
Area code (714, 909)



New Product Spotlight
Kyocera
Multifunction Printer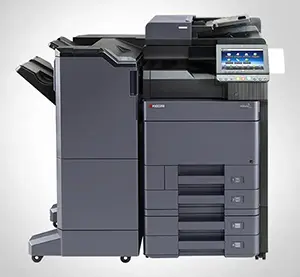 TASKalfa 5052ci
Click here for Details
Reviews
...Doug on the other hand, has always been a pleasure to work with. He understands the urgency of resolving our issues, and he is always willing to go the extra mile to do whatever . . .